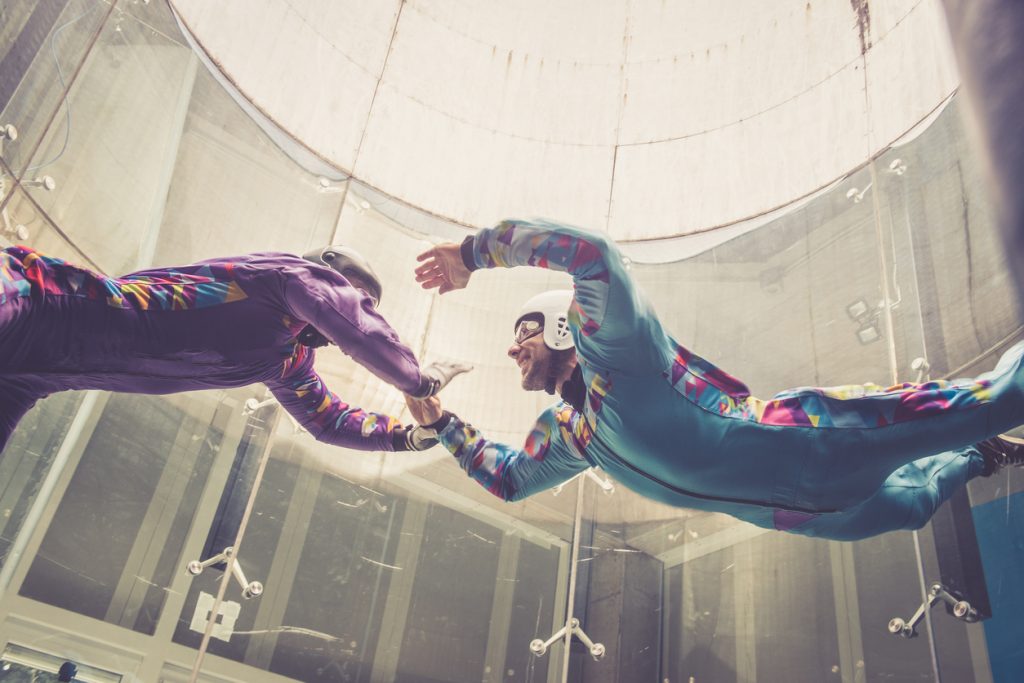 Everybody dreams of flying, and you can make that dream a reality without ever buying a plane ticket. At iFly San Antonio, a state-of-the-art vertical wind tunnel can lift you into the air for an experience like no other!
Indoor Skydiving
The fascinating wind tunnel at iFly allows guests to experience the thrilling rush of flight without ever boarding (or jumping out of) an airplane. The wind tunnel operates by channeling a steady column of air powerful enough to lift a person and keep them floating above the ground. Overhead fans bring air up through the tunnel, then force it down along special routes. This causes a compression that accelerates the air before it comes back from underneath.
Whether it's your first visit or a return trip, the experience remains exciting every time your feet leave the ground. As enthusiasts acclimate to the flight, they may enter the world of competitive indoor skydiving. Like the high-elevation outdoor sport, indoor skydiving involves several different flying styles that each favor form, speed, and imagination. Team competitions feature synchronized formations and grips that take dedication and coordination to master.
Field Trips and Events
The wind tunnel experience is an excellent applied science lesson, and students can watch complicated concepts come alive outside of the classroom. iFly's STEM educators can lead a fascinating presentation with lab activities specifically designed for various grade levels. You can also book the space for an unforgettable birthday, and the staff can arrange all the entertainment and food necessary based on your specifications. With catering options, meeting space, and more, the facility is also ideal for corporate events and team-building exercises.
Plan Your Visit
iFly San Antonio is open seven days per week. The facility is located at 15915 W. IH-10, San Antonio, TX 78257. Be sure to wear snug lace-up running shoes or sneakers, plus a shirt without a collar. The visit generally lasts about an hour and 45 minutes, from the time you arrive to the perusal of photos that may be purchased afterward. You can fill out a waiver online ahead of your visit to save some prep time.
You might also like: Become A Maze Master At The Amazing Mirror Maze!
While in San Antonio
When you're ready for some fun back on solid ground, there's nothing more exhilarating than hitting the open road in a high-performing new vehicle. If you've been thinking about a new car or SUV, we welcome you to see what we have to offer at Red McCombs Superior Hyundai. From the reliable Elantra to the family-friendly Palisade, our lineup has something for everyone.