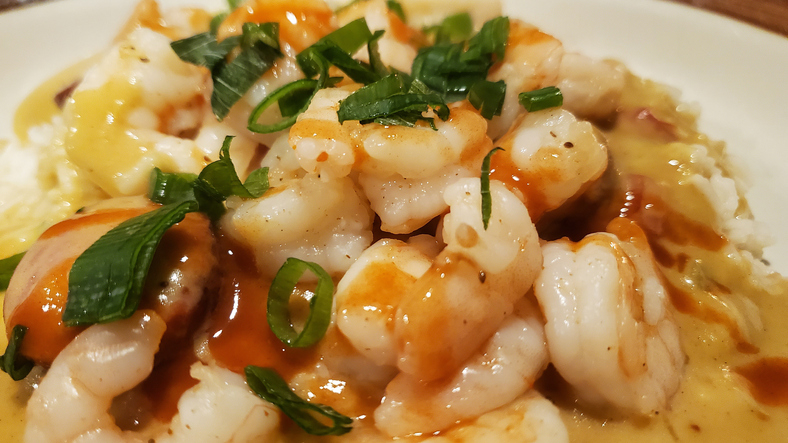 Mardi Gras is a mere week away. While you may not be able to get down to the Big Easy to enjoy all the parades and festivities of the holiday, you certainly can enjoy the flavors of New Orleans with this Spicy Shrimp Étouffée recipe. One bite and you will feel like you are there in the French Quarter enjoying Mardi Gras.
What Exactly is Étouffée?
As you start to prep to make this dish, you may wonder how this dish is étouffée and not gumbo or jambalaya? These three dishes are staples of Cajun and Creole cuisine. Made of very similar ingredients like the Holy Trinity of onions, bell peppers, and celery as well as the incorporation of a roux, you may be curious to know the difference among each dish.
The term gumbo is derived from an an Angolan word that means okra. This makes sense as okra is a key ingredient in gumbo, but not really found in jambalaya or étouffée. While gumbo and étouffée is typically served with a side of rice or placed on top of a bed of rice, rice is intentionally mixed into jambalaya as the dish has strong Spanish roots and resembles a version of classic paella. Jambalaya and gumbo will incorporate a medley of meats, but étouffée stands out as it focuses on one kind of seafood in its recipe such as crawfish or shrimp. So if you are big fan of Cajun seafood or seafood in general, étouffée is a dish you simply must try at home.
Ingredients for this Spicy Shrimp Étouffée
1/4

 

cup

of

vegetable oil

1/4

 heaping 

cup of

 

flour

1

 

large, chopped

celery stalk

1 chopped green

bell 

pepper

1 or 2

chopped jalapeño

peppers

1/2

of

large, chopped

 

onion

4

chopped

garlic 

cloves

1

 

pint

of

shrimp stock

1

 

tablespoon

of

Cajun seasoning

1/2

 

teaspoon

of

celery seed

1

 

tablespoon

of sweet

paprika

Salt to taste

2

 

pounds

of peeled

shrimp

3

chopped

green onions for garnishing

Hot sauce to taste – ideal to use

Crystal or Texas Pete hot sauce
If you do not have or cannot find shrimp stock, you can substitute it with clam juice or fish stock. You also can make your own shrimp stock, using the shells from the peeled shrimp. Other ingredients, you will use to make your stock are half of large, chopped onion, the top and bottom from 1 green pepper, two chopped garlic cloves, one chopped celery stalk, and five bay leaves. The good thing about making the shrimp stock is that, aside from the bay leaves, you will already have these ingredients on hand to make the étouffée.
You might also like: What To Do Before Selling A Car
Making the Étouffée
Like all good Cajun cooking that has its roots in French cuisine, the étouffée begins with a roux. It is essential to take care when making the roux. You will start by heating the vegetable oil over medium heat for 1 to 2 minutes in a heavy pot. You will then carefully stir in the flour, seeing to it that there are no lumps. You will allow this to cook for around 10 minutes as your stir often until it turns a deep brown.
Next, you will add the Cajun/Creole Holy Trinity (celery, green pepper, and onion) and jalapeños to the pot with the roux. Make sure to mix well. Cook the vegetables on medium heat for 4 minutes as you stir occasionally. Then add the garlic and cook for an additional 2 minutes.
You will then slowly add the pint of shrimp stock to the pot a little at a time. You need to constantly stir so that everything is thoroughly blended. You should have sauce that is almost the consistency of a syrup. Next, add in the Cajun seasoning, paprika, and celery seeds. Stir well. Then add salt to taste and the shrimp. Place a lid on the pot and allow the étouffée to simmer for about 10 minutes on the lowest setting on the stove. Right before you are ready to serve the étouffée, add in the hot sauce and green onions. Your étouffée will be ready to enjoy on a bed of rice. Bon Appétit!
Disclaimer: The stock image is being used for illustrative purposes only, and it is not a direct representation of the business, recipe, or activity listed. Any person depicted in the stock image is a model.