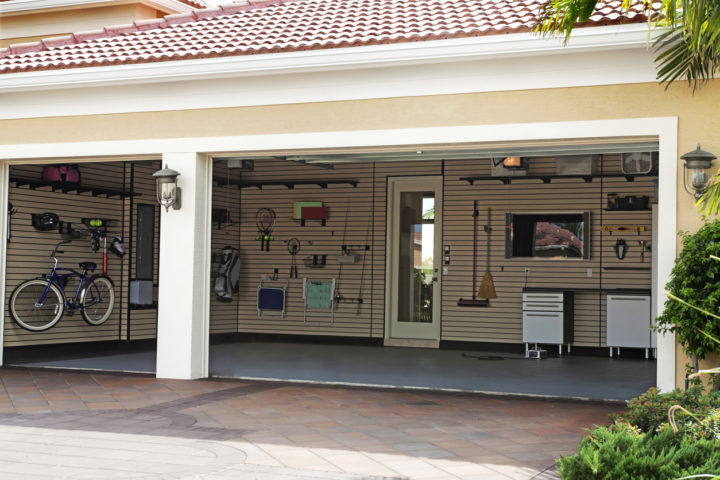 The garage is your family's storage space. Tools, seasonal items, outdoor toys, and so much more hangs out in your garage. Because your garage holds every item that has no space in the house, it becomes cluttered easily and that makes finding items hard. If you are tired of your garage stressing you out, follow these decluttering tips from SpaceWise to get your garage back.
Where to Begin
The best place to start is by cleaning out your garage. You will be surprised at how many broken items you might find in the process. Take everything out of the garage and sort them into piles. Look for any broken or expired items to throw away. Make piles for keep, donate, and sell as well. Take an inventory of everything you will keep and start to make plans for how to store and organize them. Finally, set up a garage sale for the items that you are selling take the donation items to the donation place, and throw away everything that cannot be kept.
When placing items back into your garage, make sure to set up zones. Having zones will help you be able to quickly find what you are looking for, as well as keep the space clean. With zones comes how to store items.
Storage
Bins are a fantastic way to keep your space organized and clean. Having bins also aid in the maintenance of zones. Using plastic bins, or storage containers ensures that you are keeping belongings like seasonal apparel or camping gear safe. You could also use rolling bins like drawers to house items in your garage that do not need to be protected but need space out of the way. If your garage does not have shelving, you can build and install cabinets or grab wire racks for storage.
Use your Wall
A great way to maintain an organized garage is by utilizing the wall space you have. You can install wall racks for bikes, scooters, and winter sports gear. Or hang a net from the wall for balls. You can also hang a peg board for smaller and your most-used tools and coat hooks by the garage door to dry hats, scarves, and coats from the winter weather.
You might also like: How To Tell When You Need New Tires
Tool Organization
Tools live in garages and there are so many ways to best store and organize your tools. As mentioned above, hang a peg board for all your small and most used tools. You could also install a magnetic strip onto your work desk for small wrenches, scissors, or screws. You can also DIY with PVC pipe to create storage for your drills.
Disclaimer: The stock image is being used for illustrative purposes only, and it is not a direct representation of the business, recipe, or activity listed. Any person depicted in the stock image is a model.